Rutgers Targum has reported that Rutgers has a close to $2 million Defense Intelligence Agency grant establishing "a federally-designated Intelligence Community Center for Academic Excellence (IC CAE)" Its purpose is to develop intelligence programs and inform and educate Rutgers Students. Operating out of the Orwellian named "Rutgers Center for Violence Prevention and Community Safety," Rutgers has established a Center for Critical Intelligence Studies (CCIS) directed by Rutgers Criminal Justice professor John Cohen. Cohen has an extensive intelligence background most recently working for the Homeland Security Department. Rutgers also offers a minor in Critical Intelligence Studies (CIS) through this program.
Cohen stated in the Targum article that CCIS's purpose is to establish education and training for students that want to enter in the field providing them with access to intelligence "professionals" (read spies and operatives) in the field and to provide training in preparation for an intelligence career. Another aspect of CCIS is to provide training to those who are already working in the field as spies and operatives. The CCIS minor aims to prepare students in intelligence skills including writing, briefings and research.
According to the article: "Students are also given exposure to internship and study abroad opportunities ... The classes feature guest lecturers from the FBI, CIA, the Office of the Director of National Intelligence (ODNI), the New Jersey Office of Homeland Security and Preparedness and the American Civil Liberties Union (ACLU)."
The minor requires 18 credits of related course work including Introduction to Critical Intelligence Studies, and Critical Thinking and Analytic Writing for the Intelligence Community.The program is also offering a one week course IC CAE Certificate in Intelligence and National Security delivered by CCIS.
From the days of the Vietnam war, CIA research, recruitment and other operations as well as ties to the US war machine was a source of conflict between anti-war forces and school administrations. In 1986, during the US war on Central America, 19 students and recent graduates (including this writer) were arrested protesting CIA recruitment at Rutgers in a blockade of the university president's office in Old Queens.
Now Rutgers is a hub, a major intersection where the Pentagon, the CIA and the other spymasters of war have full court access for recruitment, training and indoctrination on behalf of US imperialism.Once again - and even more so now than ever, it is necessary for students with the support of the larger anti-war forces to resist this militarization of Rutgers. Any faculty or students at Rutgers interested in working on putting together a teach-in at Rutgers on the crimes of the CIA, the DIA and the US intelligence in general, from over throwing governments and mass murder, raising of paramilitary death squads, subversion and intervention to thwart the sovereignty and democracy of other nations and peoples, the slaughter of 1000s from CIA and DIA operated drone weapons programs, drug running, money laundering and every other kind of dirty operation . . .please contact us
. Rutgers now is directly complicit with these operations. This collaboration with the goals of US imperialism and war making around the planet needs to be confronted and protested by all those at Rutgers seeking peace and justice and an end to the interventionism of US imperialism. Students interested in organizing a teach-in and other activities on this topic should call or text 908-881-5275 and visit NJAntiWarAgenda.org/Campuses.html . Possible modest stipend available.

Call or Text: (908) 881-5275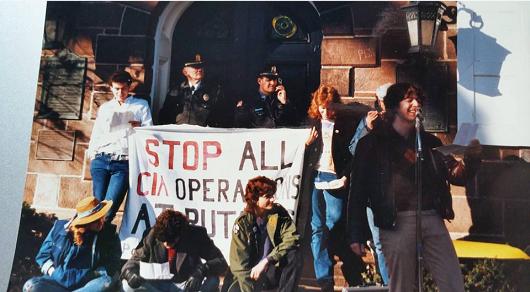 CALL TO ACTION AGAINST CIA STATION AT RUTGERS UNIVERSITY

STIPEND OFFERED TO STUDENT(S) ASSISTING IN ORGANIZING EVENT
AT RUTGERS

Campus Antiwar Organizing